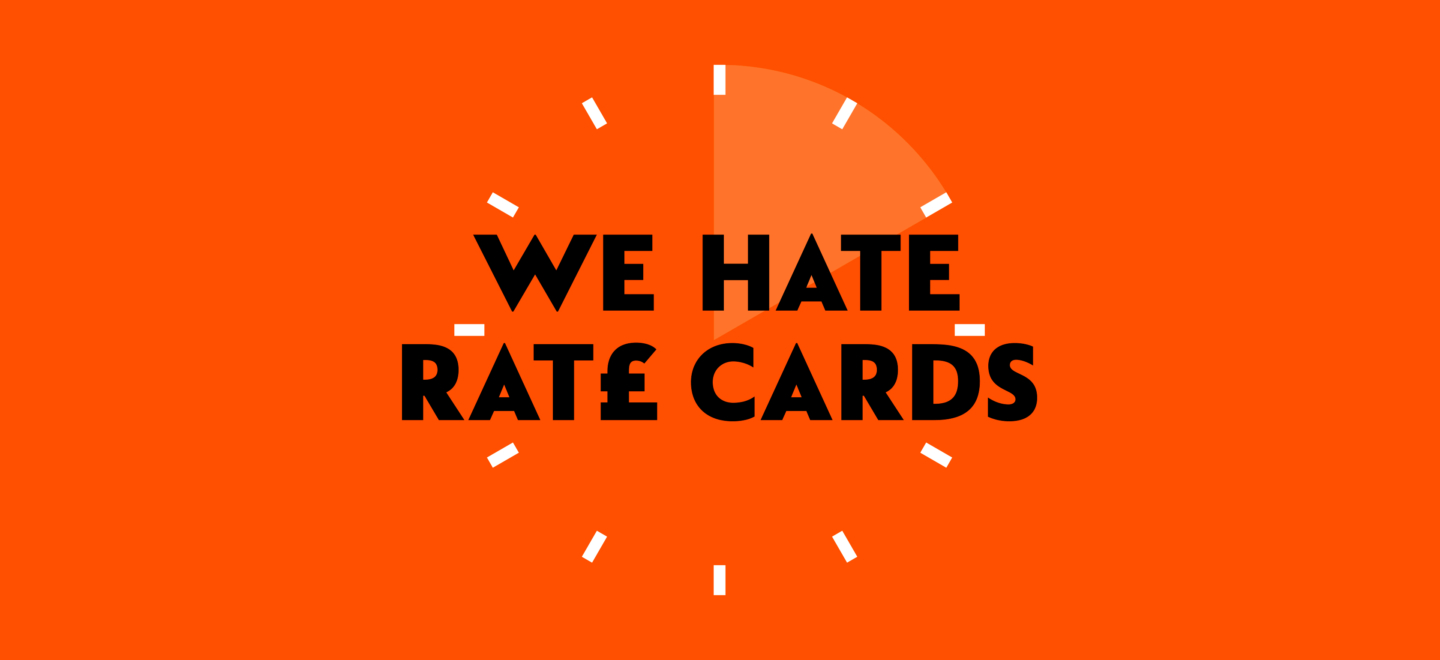 An Open Letter To Procurement Departments:
Like most design agencies, we often get asked for our rate card. You might be surprised by our response.
Charging by the hour makes no sense. It's the quality of the work, and its value to your business, that matters. Commercial creativity should be about impact, not timesheets.
In 1971, Carolyn Davidson was paid $2 an hour to create one of the most recognisable logos of all time: the Nike Swoosh. It took her 17 hours. Even by '70s standards, $35 is a bargain.
Fast-forward to 1998, when Pentagram's Paula Scher nailed Citi's new logo in an on-the-spot napkin sketch. The final solution cost the client $1.5m. "It took me a few seconds to draw it," she once said, "but it took me 34 years to learn how to draw it in a few seconds."
And that's exactly the point. Don't worry, we won't charge millions to design you a logo. But we will quote based on what it's worth to your business, not how long it took to make.
Surely hourly rates are great for certain services, like artworking? Well, no. Look at it like this: paying £75/hour for someone who takes two hours is more expensive than paying £100/hour for someone more experienced and efficient, who does it twice as fast.
Rate cards are restrictive and misleading. They are a flawed and confusing way to compare the cost of different agencies. Every role has a different rate attached, and to make things worse, different agencies call the same role different things.
As with everything at STB, we keep it simple. We hate rate cards, but if clients insist on doing it by the hour, we'll list the same rate for every member of our creative studio team – from creative director right through to junior designer.
This number is a studio average. It covers our overheads, our desire to make a profit, and the value of three decades of experience. We may also add a premium based on the commercial value of the work – and be honest about it.
We also won't bill for every chunk of time an account manager spends on your project. Having great people on hand to keep your project running smoothly should be part of the service, not another line on an itemised invoice.
Our fantastic account management team are included in our studio overheads, just like our lovely admin team. So, you'll have someone at the end of the phone, or in a meeting, or wherever and whenever you need them – at no extra cost.
This simple approach has kept our clients happy for over 30 years. It makes us much more cost effective, and it helps you keep your budget on track too. Give us a project to quote on, and we'll reply with a simple, straight-talking estimate. No hidden costs, no bullshit.