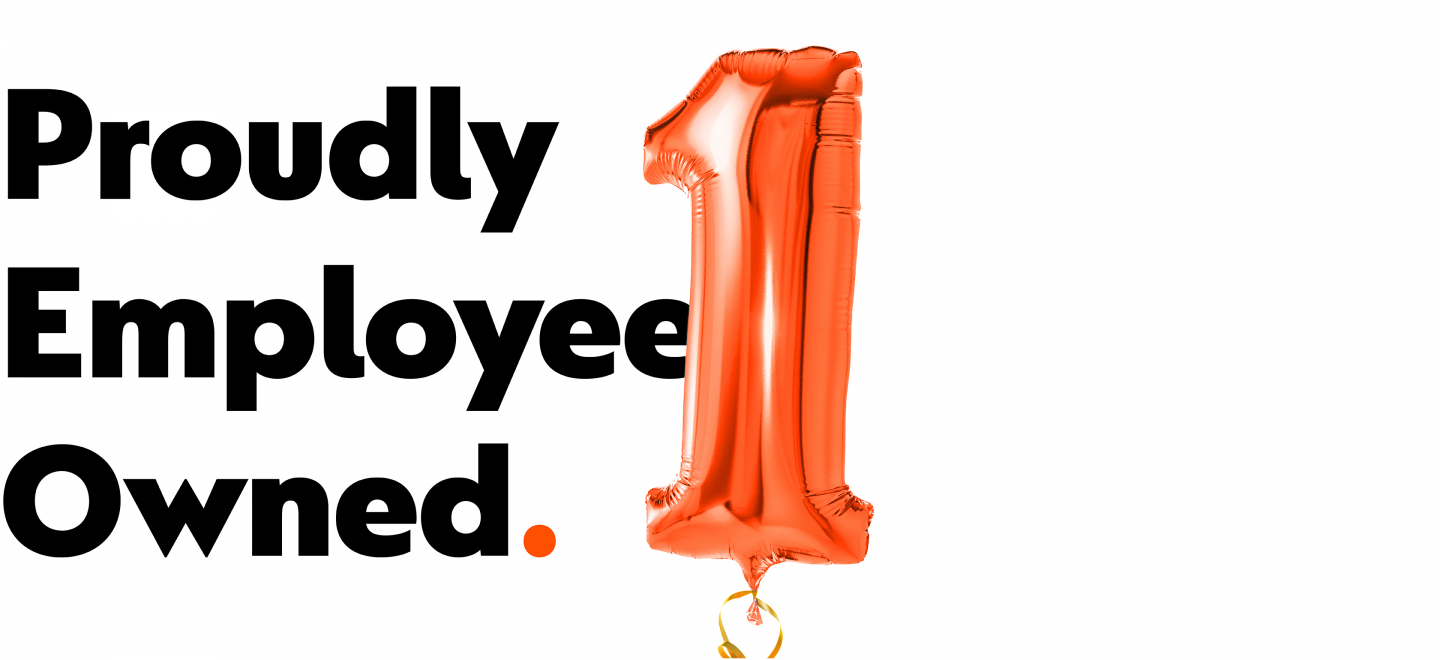 Reflections on our first year as STB the EOT
When you become an Employee Ownership Trust (EOT), there's no rulebook. Our specialist solicitors, Postlethwaite, guided us through the legal aspects back in October 2021 – but then we were in uncharted territory. Once the paperwork was done and dusted, the real adventure began. We were majority Employee Owned, but how would it work? How could we drive such a big cultural and attitudinal change? And what does it really all mean?
The milestone of our first year as an EOT is a great opportunity to reflect on what we've learnt so far on this journey. Every EOT will have a different experience of the transition: our version is painted in STB's unmistakable shade of vibrant orange.
So, what's changed? Well, we have a different atmosphere in the studio. Our team takes more ownership and works more collaboratively. Our business feels more inclusive. Most of us are graphic designers, and we're not all seasoned at running a business – but we nevertheless embrace our shared responsibility to drive the business forward.
For this to work in practice – and to pay off for us as employees – we need healthy levels of engagement. Our mindsets are different, but we're all empowered to contribute ideas. We each have something to bring to the table, and we all have a big part to play in STB's future success.
STB is employee owned, but that doesn't mean we're all in charge of the day-to-day business decisions. I've had the honour to take on the position of Trustee: it's been a great opportunity, but also a steep learning curve. Our Executive team, led by MD Lois Blackhurst, runs the company, but are ultimately accountable to the Trust – and we act on behalf of our fellow employees in a safeguarding capacity. Glenn Taylor, former 100% owner and STB founder, has also stayed on in a consulting role as Executive Chairman.
We've introduced regular work-from-home days, a new employee wellness scheme, more flexible working, and free breakfasts and heathy snacks to keep us well-fuelled when we're in the studio.
Our team are highly creative, conscientious, and dedicated – we want to attract and retain the best people. And we're building on our ongoing commitment to give back to the community through our Good Deeds initiative, as well as supporting local universities to nurture new talent.
I highly recommend working for an EOT. Here are five reasons why you should work with one:
1. We're refreshingly independent
There's no large corporate agenda, so we do what we think is right for our clients because they're key to the success of our business.
2. We treat graphic design as a science
Design brings real value to our clients. We encourage creativity, new ideas and approaches, but always with an experienced and results driven, commercial eye.
3. We measure projects by fun, fame, and fortune
New work must deliver on at least two of these. This ensures our business is profitable, but also allows us to help emerging brands with exciting projects but leaner budgets.

4. We're agile
Because of our set-up and size, our clients benefit from real flexibility.
5. We're all on the same team
Every single member of our team wants you to succeed, because in turn it helps us to succeed. What makes more business sense than that?
Written by Senior Account Director Caitlin Westlake, Trustee of the STB Employee Trust